Skip to Content
Outfit Your Bay Area Warehouse with Pallet Racks
The right storage solutions for your inventory and supplies can significantly improve the workflow of your warehouse or other commercial space. You need to have the appropriate system to make your inventory easily accessible, but you also want to ensure it is stored safely. If your stock arrives at your facility on pallets, then pallet racks are the obvious choice for your storage solution. This system allows you to place the pallets directly on the racks, so that you don't have to unpack items and place them individually. This makes deliveries of new products extremely easy and efficient. Western Shelving and Rack can provide pallet racks to businesses in the Bay Area, but we can also ship these systems nationwide. Feel free to contact us to learn more about this shelving solution.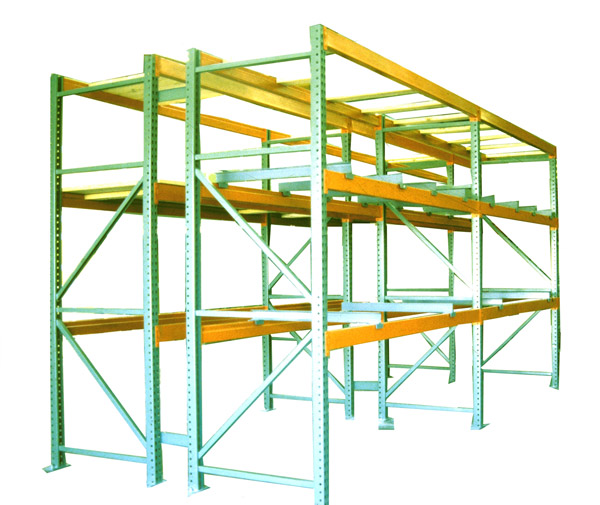 What Size Do I Need?
Upright:
Begin by determining the height of your warehouse ceiling. Next, determine how high your product will sit atop the top shelf, and be sure there is enough space between the ceiling and the shelf to accommodate the height of your product. The size of the pallet will determine the depth. Pallets should hang over the beam by approximately 3" on either side.
Load Beams:
Determine the width of your pallets. Allow for at least 12" of additional space for easy access. For example, two 42" wide pallets require a 96" load beam. Next, determine the weight capacity and allow for at least an additional 15% to ensure the rack will safely hold your product.
Pallet Rack Components
Standard Uprights
14 Gauge uprights 16,000 Capacity Color: Green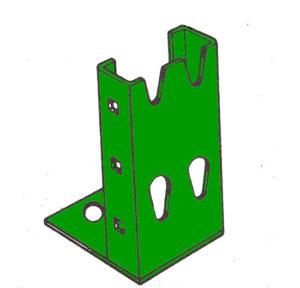 | Stock No | Depth | Height | Weight | Net Each |
| --- | --- | --- | --- | --- |
| UP1-24120 | 24″ | 120″ | 46 | $113.66 |
| UP1-24144 | 24″ | 144″ | 52 | $133.37 |
| UP1-36096 | 36″ | 96″ | 45 | $99.01 |
| UP1-36120 | 36″ | 120″ | 54 | $124.28 |
| UP1-36144 | 36″ | 144″ | 65 | $131.58 |
| UP1-42096 | 42″ | 96″ | 47 | $113.85 |
| UP1-42120 | 42″ | 120″ | 57 | $129.98 |
| UP1-42144 | 42″ | 144″ | 69 | $139.70 |
| UP1-48096 | 48″ | 96″ | 50 | $128.08 |
| UP1-48120 | 48″ | 120″ | 61 | $143.86 |
| UP1-48144 | 48″ | 144″ | 72 | $153.67 |
Heavy Duty Uprights
14 Gauge uprights 32,000 Capacity Color: Green
| Stock Number | Depth | Height | Weight | Net |
| --- | --- | --- | --- | --- |
| UP3-2496 | 24″ | 96″ | 32 | $119.99 |
| UP3-24120 | 24″ | 120″ | 68 | $149.99 |
| UP3-24144 | 24″ | 144″ | 85 | $179.99 |
| UP3-3696 | 36″ | 96″ | 45 | $117.60 |
| UP3-36120 | 36″ | 120″ | 77 | $138.82 |
| UP3-36144 | 36″ | 144″ | 93 | $160.98 |
| UP3-36192 | 36″ | 192″ | 125 | $204.07 |
| UP3-36216 | 36″ | 216″ | 138 | $267.25 |
| UP3-4296 | 42″ | 96″ | 67 | $125.48 |
| UP3-42120 | 42″ | 120″ | 81 | $146.81 |
| UP3-42144 | 42″ | 144″ | 97 | $170.25 |
| UP3-42192 | 42″ | 192″ | 118 | $219.78 |
| UP3-42216 | 42″ | 216″ | 139 | $284.42 |
| UP3-42240 | 42″ | 240″ | 160 | $349.72 |
| UP3-44144 | 44″ | 144″ | 99 | $201.22 |
| UP3-4896 | 48″ | 96″ | 71 | $132.80 |
| UP3-48120 | 48″ | 120″ | 84 | $158.18 |
| UP3-48144 | 48″ | 144″ | 100 | $182.98 |
| UP3-48192 | 48″ | 192″ | 127 | $234.32 |
| UP3-48216 | 48″ | 216″ | 156 | $292.28 |
Step Load Beams
Load Beams with 1-5/8″ Step Color: Orange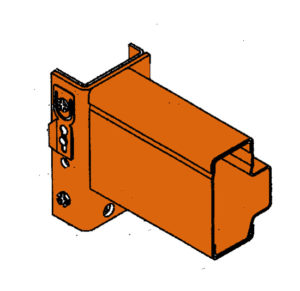 | Stock Number | Length | Height | Capacity/Pr | Net |
| --- | --- | --- | --- | --- |
| IB38-48 | 48″ | 4″ | 5,000 | $30.67 |
| IB38-72 | 72″ | 4″ | 5,000 | $33.74 |
| IB30-96 | 96″ | 3″ | 2,500 | $35.98 |
| IB35-96 | 96″ | 3.5″ | 3,500 | $37.95 |
| IB38-96 | 96″ | 4″ | 5,000 | $43.65 |
| IB48-96 | 96″ | 5″ | 7,000 | $48.96 |
| IB58-96 | 96″ | 6″ | 8,000 | $65.52 |
| IB35-108 | 108″ | 3.5″ | 2,500 | $43.35 |
| IB38-108 | 108″ | 4″ | 4,100 | $54.28 |
| IB48-108 | 108″ | 5″ | 6,300 | $56.75 |
| IB38-120 | 120″ | 4″ | 3,300 | $54.85 |
| IB48-120 | 120″ | 5″ | 5,700 | $59.29 |
| IB48-144 | 144″ | 5″ | 4,100 | $72.35 |
| IB58-144 | 144″ | 6″ | 6,100 | $82.58 |
Find the Right Warehouse Shelving Solution